We're revealing the many eligible bachelors and bachelorettes you'll be able to woo in Harvest Moon: One World! You'll find a pair of each in every town you visit along your journey, each with their own personality quirks.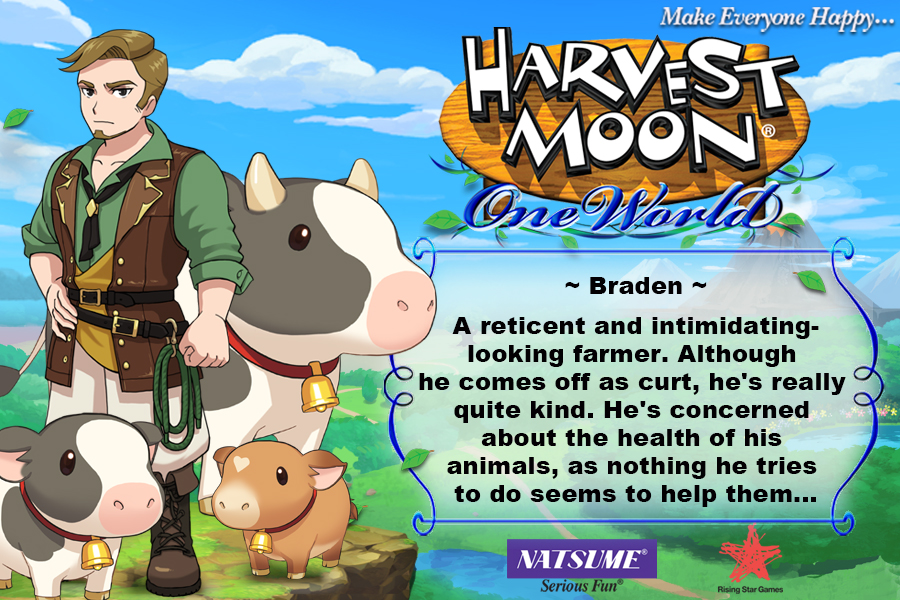 Braden resides in the verdant grasslands of Calisson, the first area that your farmer will visit outside of the tiny community you grew up in, raised by your mother alongside your creative neighbor, Doc Jr. Calisson is a small hamlet, and Braden is frequently trailed by a local boy named Elijah.
While Braden at first may seem rather grumpy, his surly demeanor is fueled by his concern for the animals on his farm, which is in danger of losing its stock. Learning how to help Braden will be the first of many steps you'll take into a sprawling world filled with exciting places to visit!
Harvest Moon: One World launches on PS4 and Switch in North America on March 2nd. Learn more about the pre-order bonuses you can get for One World right here -> Pre-Orders!
Harvest Moon: One World arrives on Nintendo Switch in Europe via Rising Star Games on March 5th, distributed by Nintendo of Europe.